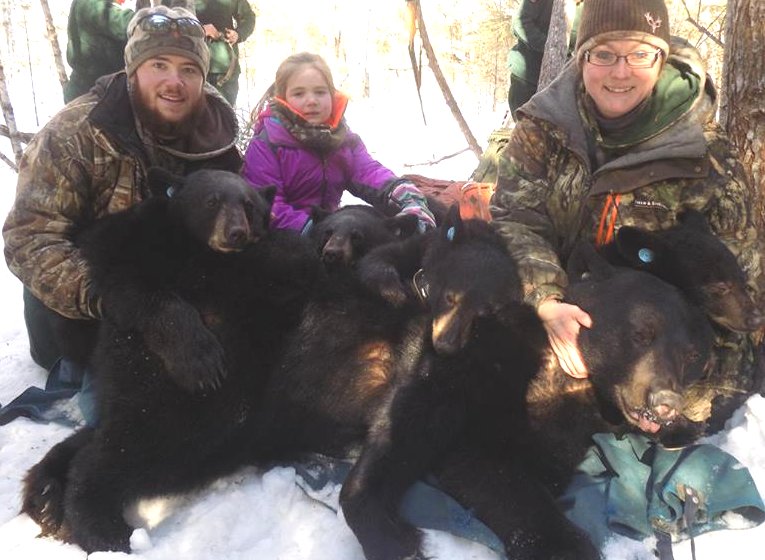 Historically, bears were found throughout the State. Following European settlement, bears were extirpated from the south-coastal section of Maine, from Portland north to Penobscot Bay as forests were cleared for farming.
Soils were depleted and agriculture declined since the turn of the century, and forests have re-grown and are once again able to support bears.
However, bears are slow to re-colonize vacant habitat, and are still rare visitors to south-coastal Maine. Most of the State has remained a stronghold for black bears.
Historical accounts suggest that population density fluctuated over the last century, but the State has always supported an abundant bear population.
Interest in bear hunting increased in the 1970's, and the Department's Bear Study was established in 1975 to monitor population trends.
The statewide population was estimated at 6,000-9,000 in 1979, and season restrictions were implemented to guard against over harvests. By 1984, improved information on bear densities yielded a revised statewide estimate of 18,000 bears. The 1985 population was estimated at 21,000 bears, but renewed interest in hunting and escalating harvests during the late 1980s reduced the population to 18,000 bears by 1989.
Additional restrictions on hunting season length have increased bear survival during the 1990s, and the population increased to 22,000-23,000 bears in 1998.
by Craig McLaughlin, Ph.D.
Wildlife Biologist
Maine Inland Fisheries and Wildlife
<< BACK: Black Bear Travel Patterns