Black Bear Hunting is our life at Foggy Mountain Guide Service
It is not a seasonal sideline for us. It has been our livelihood for over thirty years. And that shapes our attitude toward both our hunters and the game we hunt.
We strive to consistently give our hunters the shooting opportunities you would expect from a truly world-class outfitter.
You want a guide who produces consistent bear kills even in years when natural foods are overabundant those years when inexperienced guides and hunters fail to produce.
Thanks again for an awesome outdoors adventure. It doesn't get any better than Foggy Mountain. The staff made my stay feel like being at home. Your guide did a wonderful job guiding me. He was a true pro and I enjoyed his knowledge of Maine wildlife. Thanks again and I'll see you next year.

Eric Meschke, Jackson, MI, September 2014.
Black Bear Hunting Professionals
Wayne Bosowicz is regarded as the dean of bear hunting guides. He and his close knit staff of fully licensed master guides set the world standard that others can only dream of achieving. And no expense is spared to continually raise that standard.
---
Brandon Bishop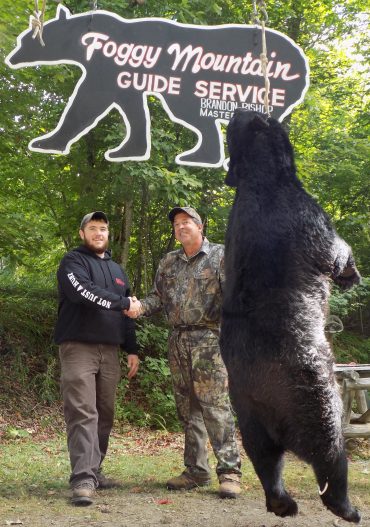 Foggy Mountain's owner, Brandon was personally trained and coached by Wayne Bosowicz the the dean of bear hunting guides. He is dedicated to carrying forward the standard of bear hunting excellence that makes Foggy Mountain Guide Service world famous.
Many of you already know Brandon. I hired him a number of years ago based on the recommendation of a Maine Game Warden. That Warden was 100% on target, as this energetic guide proved himself to be an excellent addition to the Foggy Mountain team.

Wayne Bosowicz.
Brandon tops all that I could offer. He has a lot more hunting experience than I had then. He was very fortunate to have plenty of bear, deer, coyote and turkeys right in his back yard. And he is so full of energy that I can't even hope to keep up, and I thought I was fierce in the woods!

Wayne Bosowicz.
Brandon is adding more hunts to Foggy Mountain's schedule. These include Hound hunts for Bear, Coyote hunts, Rabbit (snowshoe hare) hunts, and Turkey hunts. Call Brandon. He looks forward to talking with you about your next hunting adventure.
Wayne Bosowicz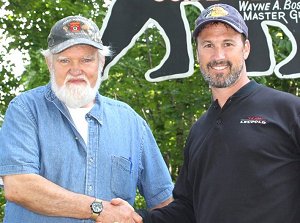 Wayne Bosowicz is regarded as the dean of bear hunting guides. He and his close knit staff of fully licensed master guides set the world standard that others can only dream of achieving.
Wayne has spent decades developing the bear habitat and prime hunting stands in the best bear hunting territory of Maine. He is sought after by bear biologists in many states.
Now, he has passed his knowledge and skills to a privileged handful of Maine Guides whose sole job is to see to it that you have the best possible opportunity to fulfill your hunting goals. As a result, record-book black bear are consistently taken in Maine year after year.
I started Foggy Mountain when I was 18 — hard to imagine! Back then, I was ten feet tall and had a black beard. The hunting world soon became infected with my excitement for black bear hunting, and black bear graduated from vermin status to the honor of trophy game!

Wayne Bosowicz.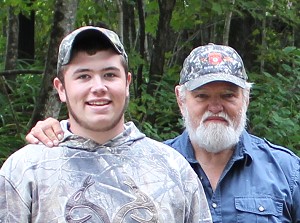 Brandon was great. He has a great personality and is very knowledgeable. My wife and I hope to be back again next year for another try.

James Miller, Thorntown, Indiana, September 2015.
---
The utmost Game Knowledge means consistent success
The black bear is a trophy game animal we know and respect. Wildlife biologists from many states seek our expertise and advice.
Powerful and crafty, the bear's trademarks are strength and endurance. Their nose is as sensitive as the most sophisticated radar system. Their feed and travel patterns through our thick firs and dense bogs make our bears a challenging animal to hunt.
Attention to detail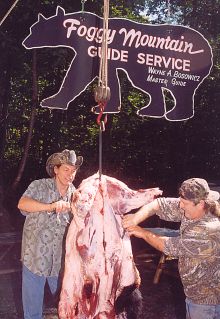 Your bait site, stands or ground blind is precisely positioned and meticulously maintained only after careful study of prevailing winds, terrain, and game patterns. We use pre-built, permanent stands, portables and ground blinds with all obstructing branches and brush cleared from your line of fire. Our stands are 11 to 15 feet from the ground and offer bowhunters an average shot of 18 yards. Rifle hunters will shoot at distances of 75 yards or less, and hand gunners will be shooting 20-30 yards.
Shooting Excellence
Remember, even at these close ranges the black bear demands shooting excellence before he will fall to a hunter. Your target is a 4 to 5 inch square (boiler room) area just behind the front shoulder.
Bow-hunters, it makes no difference how good a shot you are – unless you hit a bear exactly in the boiler room with the arrow heading towards the bear's head, you will get nothing but a wounded bear.
The black bear is unlike any other game animal you have ever hunted. When hit, a bear will not lie down and bleed out like a deer. But rather, will run until he dies – which could be up to 20 miles. Therefore, a precision shot is essential.
Those of you using a gun have many options. You do not have to even wait until the bear is on bait for a good shot. Also, a head and chest shot can produce when combined with accurate shooting.
And never rush a shot. But when you do have a good shot – take it. Do not assume the bear may go left or right, or even to the actual bait. Be positive of what and where you are shooting…it's your responsibility.
Hunters appreciate our skills and efforts
There is nothing better than hearing this straight from another hunter. So read our reference letters, and feel free to call any with your questions. Call our State Wildlife Department and ask questions.
We are confident you will find out why Foggy Mountain is so highly rated by hunters, outdoor professionals, and wildlife biologists from so many states.
We would like to give our thanks to you, our guide, and the staff for a great and memorable experience. It is now obvious to us why people come from all over the world to hunt with you.

Harry Marquiss, Agawam, MA, September 2014.
Private & Flexible Accommodations
Unlike bear hunts with most outfitters, lodges and sporting camps, Foggy Mountain's guests are not doubled up in a bunk house or room with other guests. Your party will enjoy the privacy of your own sleeping room, and the good night's sleep that is important for a good hunt – whether you come alone, with a large group, with your spouse or whole family.
Bottom Line? Bear Hunting
Black bear hunting is our life. We offer guided Bear Hunting in Maine.