Coyote hunting in Maine is an exciting challenge. Unlike other states, Maine's thick forest cover gives coyotes many opportunities to hide or escape.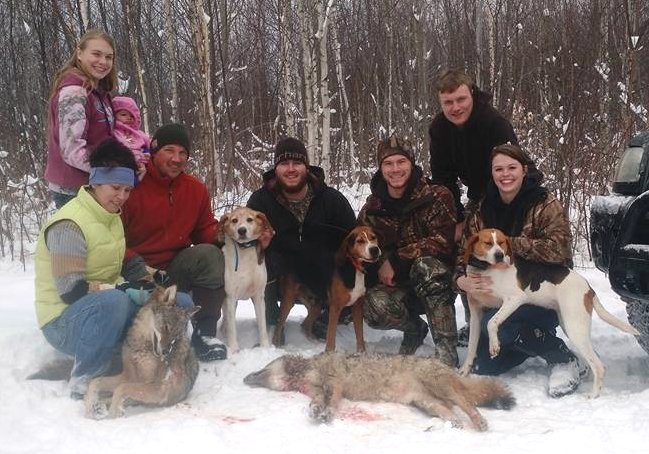 Foggy Mountain's coyote hunts are great fun, and help reduce the severe predatory losses that Maine's deer population has suffered.
Come harvest your first Maine coyote.
Foggy Mountain offers two coyote hunts:
Hound Hunts for Coyote – Foggy Mountain has the tactics and hounds to get it done. You will hunt over our hounds that are equipped with GPS collars so we can keep up with the race and get our sights on the elusive coyote. All shots will be at close range where a shot gun is the preferred and most effective weapon.
Stand Hunts for Coyote – A coyote hunt over bait is from a comfortable shooting shack equipped with a propane heater. It is common to see multiple coyotes at the bait at one time. Coyotes may be hunted 24 hours a day from December 16 through August 31st. Hunting in conjunction with moon phases helps take advantage of the moonlight on the snow. A rifle equipped with a scope works best.
Coyote Hunt includes:
One to five days hunting for one or two hunters.
Full guide service.
Transportation during the hunt. All gas and vehicle expense.
Land Access "private land" and insurance fees.
Optional: Housekeeping accommodations (meals not included) can be provided.
Click Here for Maine Coyote Hunting Rates.
Coyote Hunting Season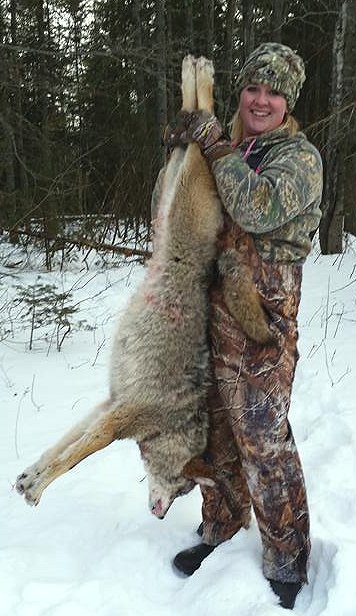 Daylight hunts: December 1, 2018 – April 30, 2019
Night hunts: December 17, 2018 – April 30, 2019
Coyote "Night" Hunting Permit
Maine allows night hunting of coyote. A "Coyote Night Hunting Permit" is required to hunt coyote at night (½ hour after sunset until ½ hour before sunrise), in addition to your regular hunting license. Hunting under this permit shall cease at midnight each Saturday and resume at 12:01 a.m. on Monday (Hunting on Sunday is not allowed in Maine). The permit fee is $4.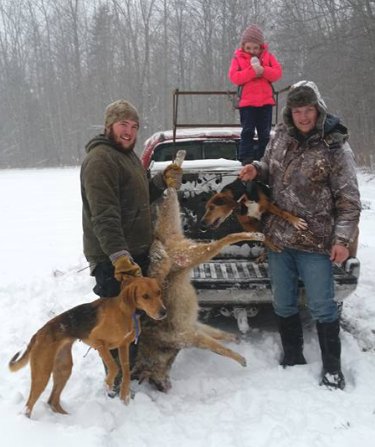 It May Not Be Too Late!
"Should you have a last minute opportunity to get away for some quality hunting, just give me a call and I may be able to accommodate you. I appreciate fellow hunters and their busy schedules, and will do everything possible to accommodate you." – Brandon Bishop.
Note:
A 50% deposit is required on all hunts. No deposits refunded.
PERSONAL CHECKS ACCEPTED FOR RESERVATION DEPOSITS ONLY.
Please make Checks Payable to "Foggy Mountain Guide Service."
Questions?
When you book a hunt with us, you will receive a complete confirmation kit including detailed information on equipment and clothing.
Please feel free to call us at any time, we love hearing from fellow hunters.
Click here for answers to some of your Questions.