Hunting snowshoe hare is one of Maine's most fun small game hunts. The hunt is action packed and fun for all ages.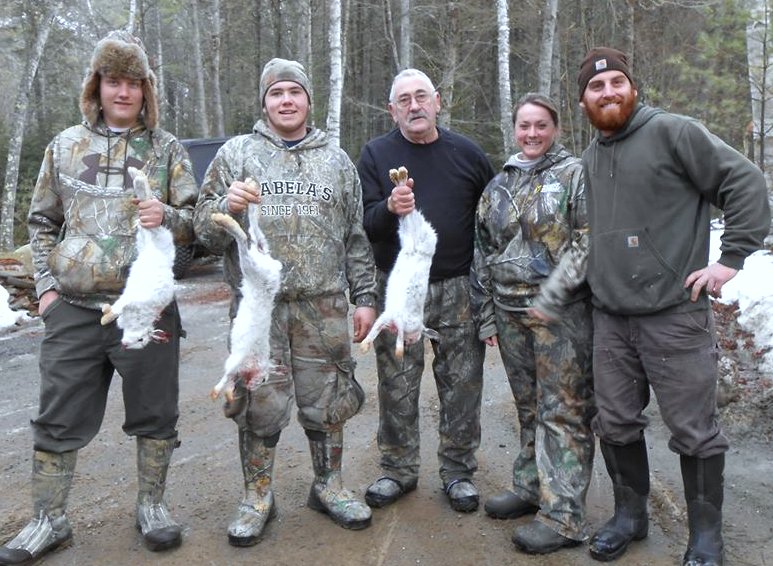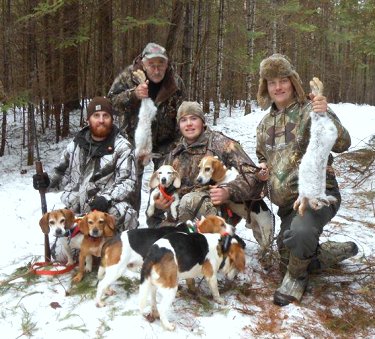 Foggy Mountain's rabbit hunt starts at 8 AM when we head to prime rabbit cover and then turn our beagles loose. Your guide will get you into a prime crossing location while the beagles circle the rabbit back towards you.
We take a break from all the action at noon for a tailgate lunch, then head back into the thicket for more afternoon action.
Weapon of choice is a shotgun. All gauges (410, 20, 12, & 16) are suitable so this hunt lets everyone take aim at a rabbit in front of our beagles regardless of age or shooting ability.
Rabbit Hunts include:
Hunts run from one to five days.
Hunters may harvest 4 hare per day.
Posession limit is 8 hare.
Hunt starts at 8 AM.
Full guide service.
Transportation during the hunt. All gas and vehicle expense.
Land Access "private land" and insurance fees.
Optional: Housekeeping accommodations (no meals) can be provided.
Click Here for Maine Hunting Rates.
Rabbit Hunting Season & Permit
Season: December 1st – March 31st
Permit: Hunters must posess a Maine Small Game, Big Game, or Junior hunting license. No additional permits are necessary.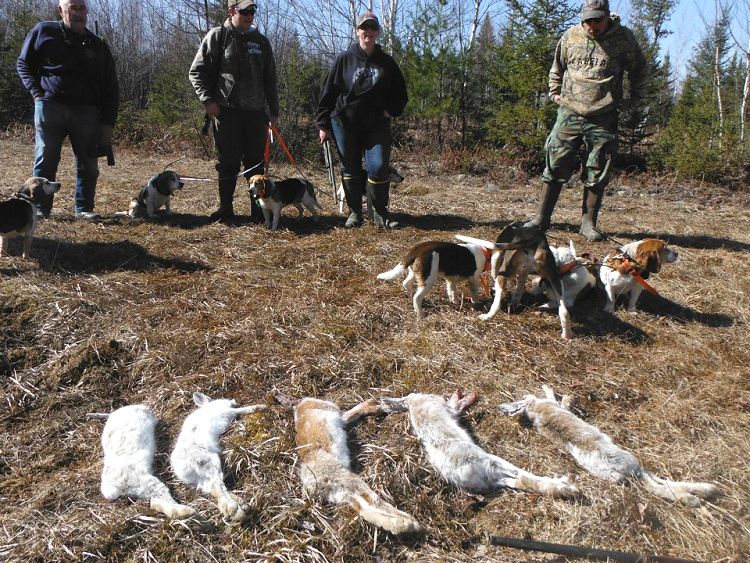 It May Not Be Too Late!
"Should you have a last minute opportunity to get away for some quality hunting, just give me a call and I may be able to accommodate you. I appreciate fellow hunters and their busy schedules, and will do everything possible to accommodate you." – Brandon Bishop.
Note:
A 50% deposit is required on all hunts. No deposits refunded.
PERSONAL CHECKS ACCEPTED FOR RESERVATION DEPOSITS ONLY.
Please make Checks Payable to "Foggy Mountain Guide Service."
Questions?
When you book a hunt with us, you will receive a complete confirmation kit including detailed information on equipment and clothing.
Please feel free to call us at any time, we love hearing from fellow hunters.
Click here for answers to some of your Questions.