Black bear hunting is our livelihood – not just a seasonal sideline. It is our full time commitment to make your Foggy Mountain black bear hunt a complete and memorable experience.
The Most Productive Black Bear Hunting Outfitter in Maine, the United States or Canada.
You want a guide who produces consistent black bear kills even in years when natural adversities exist – years when inexperienced guides and hunters fail to produce.
Maine's Foggy Mountain Guide Service was founded by Wayne Bosowicz – regarded as the dean of black bear hunting guides.
Foggy Mountain's close knit staff of fully licensed Maine guides set the world standard that others can only dream of achieving. And no expense is spared to continually raise that standard.
You have provided my son and I with a fabulous time for three years in a row. The hunting and site locations are outstanding. You and your guides could not be more knowledgeable or helpful. All of your support people are very hospitable and friendly. The conversations during meals (which are terrific) and non hunting time were great fun and very enjoyable. Brandon, you are a true sportsman and professional. We would certainly recommend you to other hunters.

Leon Tragger Sr & Jr, Pennsylvania, September 2017
Wayne has spent decades developing the bear habitat and prime hunting stands in the best bear hunting territory of Maine. He has passed his knowledge and skills to a privileged handful of Maine Guides like Brandon Bishop whose sole job is to see to it that you have the best possible opportunity to fulfill your hunting goals.
As a result, record-book black bear are consistently taken in Maine year after year. Our trophy room shows the results.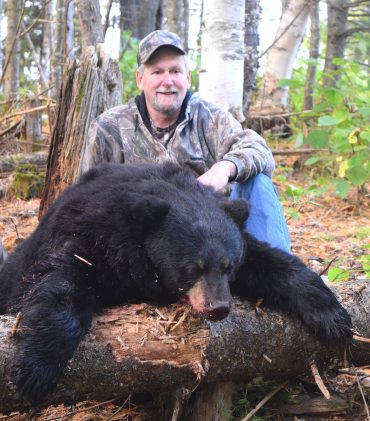 Unsurpassed opportunity to hunt a Trophy Black Bear
We strive to give our hunters the shooting opportunities expected of a truly world-class hunting outfitter. This requires knowledge, skill, effort, advance preparation, and experience.
Bear hunting is our life, so no matter how you cut it, a part time guide can not give a full time commitment.
I want to thank you and your group. We could not have asked for a better time. Everyone in our group saw bears, and the area to hunt is some of the best I've ever seen.

Larry Salerno, Seneca Falls, New York, September 2016.
You kill'em, You Grill'em – We take care of the rest
Foggy Mountain will track and retrieve your game, field dress and skin it. We prepare the meat and hide for your trip home.
Our freezers will preserve the fresh quality of your meat and hide. We prepare your trophy for your taxidermist, or we can introduce you to one of our highly skilled local specialists. Meat cutting and packaging is also available locally.
Private & Flexible Accommodations
Unlike hunts with most outfitters, lodges and sporting camps, Foggy Mountain's guests are not doubled up in a bunk house or room with other guests. Your party will enjoy the privacy of your own sleeping room, and the good night's sleep that is important for a good hunt.
You have a choice of lodging options – whether you come alone, with a large group, with your spouse or whole family. Both American or Housekeeping Plans are available.
Thank you for the awesome hunt. I am extremely happy with my first bear. I can't wait to come back and do it again. The cabin that you put my wife and I in was very nice. As you know, my wife is particular on where she stays and it was above even her standards. This has been one of the best hunting trips I have ever been on, not only killing the bear but catching smallmouth in the river and seeing all the additional wildlife was amazing. I can't thank you enough.

Aaron Lehnen, Middletown, Missouri, September 2012.
Complete information and tips
When you book a hunt with us, you will receive a complete confirmation kit including detailed information on equipment and clothing, plus graphic illustrations of optimum shooting angles.
My wife and I had a remarkable time while hunting with you. The whole experience for both of us will be remembered forever. Even though she didn't hunt she told me several times that she didn't want to go home. The lakeside time was very relaxing for her. When I did kill a bear we both were delighted beyond words. Like I told you when I left, 'I will be back'.

Michel "Scott" Stirn, Brookville, IN, September 2017
Thanks for the great time. I will never forget all the fantastic things we experienced in such a short time. Getting that bear was icing on the cake.

Joe Bowman, Hamilton, Indiana, September 2016.
Thanks for a great visit and a great hunt the first week of the season. Brandon did an excellent job! He was easy to hunt with and was more than willing to share his knowledge of bear hunting and the area we were hunting. The hospitality and accommodations were fantastic.

Frank L. FitzSimons, Summerville, South Carolina, September 2015.
Thanks again for an awesome outdoors adventure. It doesn't get any better than Foggy Mountain. The staff made my stay feel like being at home. Your guide did a wonderful job guiding me. He was a true pro and I enjoyed his knowledge of Maine wildlife. Thanks again and I'll see you next year.

Eric Meschke, Jackson, MI, September 2014.
Even competitors agree that Foggy Mountain is the best black bear outfitter in the world.

Dick Metcalf, Shooting Times, Handgunning Magazine
Our guests appreciate our skills and efforts. Read their actual comments and find out why!
"Life is full of surprises…Your bear hunt shouldn't be one of them!"
We know that a bear hunt is a major event in many folk's lives, so we take it very seriously. You can arrive with confidence, not apprehension.
Fellow Hunters, I had the great pleasure of bow hunting at Foggy Mountain's West Branch Camp the second week of the 2017 bear season. Brandon and his guides went beyond my expectations to provide an enjoyable, relaxing and successful experience. I highly recommend booking a hunt with these guys and I guarantee you will enjoy a great experience in the Maine wilderness.

Dan Geer, Farmington, NY, September 2017
Maine Bear Hunts
Hunt in perhaps the most beautiful country in the world. You will be surrounded by an explosion of fall foliage color and you will never be too far from a delicious Maine lobster dinner.
Foggy Mountain's most popular bear hunts are in Maine's two most bear infested regions. These areas are on private lands with access controlled by gates, as are 95% of our total hunting territories.
Bear hunting success is the same in both areas, but our accommodations are different:
I want to tell you what a great time we had thanks to your excellent organization, Foggy Mountain Guide Service. I'm ready to round up a hunting partner for next year.

D.L. Roy Harrington, Mathews, NC, September 2017
Bear Hunts with Hounds – Back by Popular Demand!
More Maine Hunting Opportunities at Foggy Mountain:
Thank you for a great time at bear camp. I had a great time. I got to see everything I hoped for. Had my chance at the bear of my dreams and saw a bear come in from a ladder stand. Two very high things on my bucket list. I'm already starting to save up to make the trip back up next year.

Phil Peltier, West Springfield, MA, September 2015.
Questions?
Click Here for more Answers to some of your Questions, and please, feel free to call us at any time.
Got home at 4am Sunday morning. Grandkids wanted me to get them up to see the bear. Then got it into the freezer. It was well cooled and dry so all was good. Slept a few hours then kids woke me up with breakfast in bed and then we cut him up. Good bit of meat, good bear!

Steve Stratton, Flushing, OH, September 2017
Thank you and your staff again for the time we had on our bear hunt. I am tickled with my bear. I wanted an above average bear with a dark muzzle and no V. That is exactly what I got. I can't wait to get the mount. You have a first rate operation.

Cindy Chihasz, Abbeville, SC, September 2015.
I really had a great time with you guys. The lunch and all that your family put on. All you guys did a great job…I truly hope to get there again.

Ken Copella, Clifton Springs, NY, September 2016.
We did not get a bear but had a great time. Brandon was great. He has a great personality and seemed very knowledgeable. My wife and I hope to be back again next year for another try.

James Miller, Thorntown, Indiana, September 2015.
You have a first rate operation. I was impressed with Brandon. His personality, knowledge and effort that he put into helping us with our bears was much appreciated.

Charles Chihasz, Abbeville, South Carolina, September 2015.
---
It's Never Too Late – Call Me!
"Should you have a last minute opportunity to get away for some quality hunting, just give me a call and I may be able to accommodate you. I appreciate fellow hunters and their busy schedules, and will do everything possible to accommodate you."
– Brandon Bishop

2022 Bear Seasons (Click here for 2023)
Maine's Vast Highlands, Moosehead & Katahdin Region -
Hunt August 29th (Arrive on the 28th) thru September 2nd
Or Hunt September 5th (Arrive on September 4th) thru September 9th.
Maine's West Branch Region -
Hunt September 12th (Arrive on the 11th) thru September 16th
Or Hunt September 19th (Arrive on the 18th) thru September 23rd.
Hound Hunts for Bear -
Hunts start September 26th and run thru October 21st
---
Bear Hunter Comments
Thank you for the incredible job you did to make my recent archery bear hunt in Maine's West Branch an awesome success. I've been fortunate enough to hunt many parts of the world, and I rarely meet someone as capable as your guide. It's often difficult to find a professional hunter who knows what it takes to make a good bow hunt - he knows. I look forward to returning to hunt with him again.

Chuck Darnall, Whitehouse, TX, September 2015.
I can't tell you how happy I am with this year's hunt – and not because I got a great bear. Everything was just great: the weather, the other hunters and the hunting. Your guide was an absolute delight to be around. I think he was as excited about my bear as I was. It's going to be a long year until I get back. I can't wait. It's always the high point of my year.

Gary Chamberlain, Sandusky, NY, September 2014.
Best Trip Ever! I wanted to let you know, that Jack, Ryan and I had the best time ever…We will definitely be up there next year, same time.

Lori Clark, Dallastown, PA, September 2015.
Thank you and your team for a great experience. I got my bear on the second day and it was an experience of a lifetime.

David M. Karchner, CT, September 2015.
During the hunt we had 2 flat tires. One of them Guy fixed and the other Brandon and Jason came to the field and fixed for us. This meant a lot as my wife was by herself with the vehicle and I was at another site.

James Miller, Thorntown, IN, September 2015.
We would like to give our thanks to you, our guide, and the staff for a great and memorable experience. It is now obvious to us why people come from all over the world to hunt with you.

Harry Marquiss, Agawam, MA, September 2014.
I want to tell you what a great time I had hunting at the West Branch in September. It was a great camp with a bunch of good folks and the staff and guides were great. Hope to see you next year.

Tony Masino, Bowie, MD, September 2013.
Just a word about the great hunt that was afforded me there in Maine. I have been to Montana twice, one producing a 5x5 bull, and two hunts for black bear. The hunt in September at Foggy Mountain was the best of all hunts I have been on. Your professionalism and caring about all aspects of the hunt, quarters, food and making sure that our wants and needs were taken care of. You are the very best and finest bear outfitter in all the northeast. Thanks.

Ron Marlett, Auburn, New York, September 2011.
---
Our Wildlife Conservation Pledge
"Foggy Mountain Guide Service is dedicated to the promotion of healthy wild bird, fish and game habitat, and to the wise use of our natural resources by hunters, fishermen and other outdoor sports enthusiasts."