"Retired Teacher's Black Bear has
Chance to Make Record Book"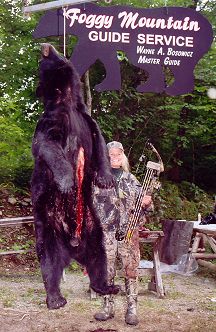 Joanne Chianos, a retired teacher from
West Hanover Twp., killed a 425-pound bear in Maine
on her first bow-hunting trip for the animal.
"I got my bear at 7:15 p.m. on the last day of our hunt," she said.
By Mary Klaus
The Patriot News
Harrisburg, PA
October 10, 2005
West Hanover Twp. Joanne Chianos had been hunting bears for four days last month in a northwest Maine forest when she heard a distinctive crack.
The West Hanover Twp. archer looked down from her tree stand and saw "a huge bear on all fours, looking straight up at me."
She froze in position "with my heart beating so loud I thought he could hear it." They stared at each other as she waited for the bear to get in position for the perfect shot.
Seconds later, she drew her bow. Her arrow found its mark, landing a 425-pound black bear that might make the record books for its size.
"That was a thrill of a lifetime," said Chianos, a retired Harrisburg School District physical education teacher who taught at Hamilton Elementary and in the district middle school. "I've loved archery since I was a child in summer camp."
Chianos went to Maine last month with her "best friend and hunting partner," Dan Kruger of West Hanover Twp., also a retired Harrisburg School District physical education teacher, who taught in the same schools.
She said Kruger, a longtime hunter, talked her into buying a bow, practicing and trying archery hunting.
"I had never hunted until 1977," she said. "But the first time I hunted with an old-fashioned basic bow, I got a beautiful eight-point buck. I was hooked."
Since then, Chianos has had successful hunts, shooting three deer and three bears with her rifle and six deer with her bow. She also has shot turkeys. But the trip to Maine was her first time bow hunting for bears.
"I've always been mesmerized by bears," she said. "I'm not afraid of them, but I respect them. They've come within 10 yards of me. On the first day of Pennsylvania's deer season this year, I saw a beautiful black mother bear and four cubs."
She giggled while recalling the time she and another woman teamed up to wrestle Caesar, a 1,000-pound black bear at the Eastern Sports and Outdoor Show in the Farm Show Complex.
"The goal was to put the bear on his back," Chianos said. "But when we went into the arena, Caesar swiped my legs out from under me. I was on my stomach, and he had his front paw on my back. I thought he was standing on me. I couldn't move and couldn't breathe. I thought 'maybe this wasn't a good idea.' My friend tried to distract him. We were done."
Chianos said that during the recent five-day hunt led by Foggy Mountain Guide Service of Sebec, Maine, she and Kruger hunted from their tree stands from 2 p.m. to sundown.
They didn't see any bears for the first four rainy days.
"I got my bear at 7:15 p.m. on the last day of our hunt," she said. "I heard his moan and knew I got him. He went away, leaving a blood trail. I was shaking as I lowered the bow and came out of the stand. He was lying 25 yards away, looking like a big black refrigerator."
Chianos tagged the bear, then put her jacket over him to keep coyotes away. She returned the next day with a canvas stretcher and two people to help lift him.
She saved the animal's hind quarters and tenderloins, which she said "tastes like sweet beef," then donated the rest of the meat to a program for the hungry.
"We eat everything we shoot," she said. "I'm having a full mount done, with the bear standing with his paw on a rock. It won't be done until February. I'll put it in my game room."
Kruger, who over the years has shot six bears with a bow, said Chianos "shoots like a champ and knows how to sit quietly more than most men I've hunted with."
Kruger's own skill with bears might have saved his life twice. He recalled being in a tree stand when a 150-pound bear "climbed up toward me. I poked him in the face with my bow, and he went down."
Another time, while bow-hunting in Maine, a 50-pound bear cub climbed up his back and began sniffing at him.
"It was very scary," he recalled. "I said, 'Please go away.' After a few minutes, he did. But five minutes later, he returned with a second cub and their 300-pound mother. One cub crawled on my back. The other crawled under my arm. The mother bear growled, snarled and clicked her teeth at me five yards away."
Kruger said he petted the cub on his lap, calming it down. "Finally, the cubs left, the mother growled again, and they all left. It was the most frightening experience of my life."
Kruger said that because of its size, Chianos' bear "stands a good chance of making a record with Pope and Young," one of North America's leading bow-hunting and conservation organizations.
---
Retired Teachers Black Bear has Chance to Make Record Book can be read in the October 10, 2005 publication of The Patriot News, Harrisburg, PA.
Read more about Bear Hunting with Foggy Mountain Guide Service.
Info about Maine Bear Hunts with Foggy Mountain Guide Service.
Read more Hunting Guide Magazine Articles about Foggy Mountain Guide Service.
Return to Bear Hunting Home Page.