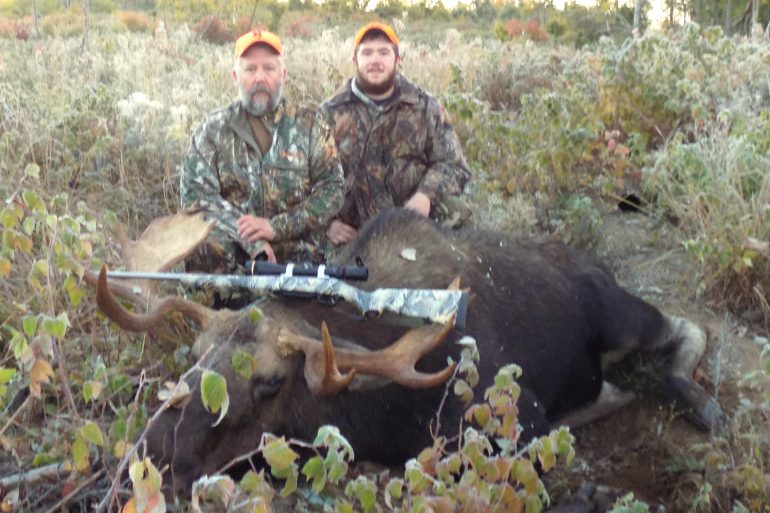 For over 40 years, we have been dedicated to good stewardship of the land and wildlife and committed to making each guests visit one that memories are made of.
Ever since the moose hunting season began in Maine we have been running at nearly 100% success. All are trophy bulls!
Moose Hunt includes:
Six days hunting for one or two hunters (permit holder and sub-permit holder or non-hunting partner).
Full guide service.
Four wheel drive vehicle for the hunt. All gas and vehicle expense.
Land Access "private land" and insurance fees.
Housekeeping accommodations.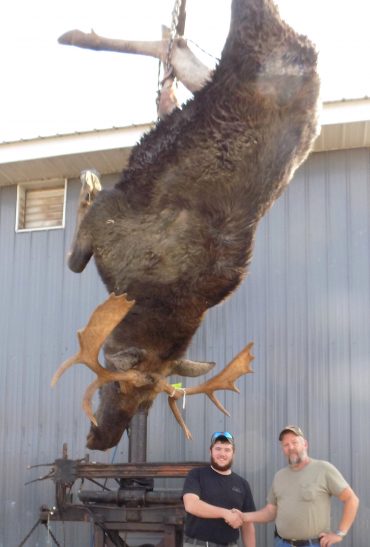 Moose Physical Characteristics
Moose are the largest member of the deer family. Calves weigh about 30-35 pounds at birth and about 400 pounds at five months of age. In Maine, a typical adult male weighs 1,000-1,100 pounds but very large specimens may weigh as much as 1,400 pounds (live weight). A typical adult female weighs 800-900 pounds. Moose are about 6 feet tall at the shoulder. Bulls grow a new set of antlers each spring and drop them in early winter. Antler size varies from spikes or forks on most yearlings to large palmate structures up to 6 feet wide on exceptionally large mature bulls. An antler spread of 4-5 feet is typical for adults. The current population estimate of moose in Maine is 29,000 and growing. Some claim it is over 70,000!
Maine Moose Hunting Season
Area and Season depends on permit – Typically open in October – 1 or 2 Weeks
Moose Hunting Permit
Maine issues a limited number of moose permits through a permit drawing system. Applications must be submitted by April 1st.
Click here to get information about the Maine Moose Permit.
Maine Moose Hunting Zones
Foggy Mountain Guide Service utilizes five Wildlife Management Districts. When applying for a moose permit it is absolutely critical to use the following priority list. While Foggy Mountain uses only the first five districts, you must list 10 districts for your application to be valid. Please contact us if you have any questions.

| Priority | District |
| --- | --- |
| 1 | 5 |
| 2 | 4 |
| 3 | 6 |
| 4 | 8 |
| 5 | 2 |
| 6 | 1 |
| 7 | 3 |
| 8 | 9 |
| 9 | 14 |
| 10 | 18 |