"Bear Hunting Success Begins When You Pick Your Guide"
Three trophy Maine black bear for the record book on this hunts one day results Bear hunting in Maine places you in one of the heaviest black bear concentrations per acre of habitat anywhere in North America. Hunter success from our blinds and tree stands over bait has been outstanding with record book kills year in and year out.
Fall bear hunts in Maine offer perhaps the most beautiful scenery in the world. You will be surrounded by an explosion of fall foliage color and you will never be too far from a delicious Maine lobster dinner. There is nothing quite like our fall hunting in Maine.
Handgun hunting is legal in Maine. Your hunting license is your permit. In order to purchase a Maine hunting license you will be required to show a previous license from your home state or province. A hunter safety certificate is also sufficient.
Prime Black Bear Habitat with Controlled Access
You will hunt deep in the most productive black bear habitat in North America, on nearly one million acres of private and state lands. Our prime hunting areas have controlled access – an unparalleled benefit for Foggy Mountain's guests. We have hunted these lands since 1964. We know the habitat, and we know the black bears' habits and patterns within it.
The black bear in your territory are under-hunted, resulting in a growing bear population, with many stands having multiple bears visiting them.
Thanks again for a great hunt and experience. At first, I was not sure what to expect, as this was my first hunt outside South Carolina. The lodging was great and the food was more than I expected (Excellent to put it mildly). The hunting and wildlife was spectacular.

Eric Perkins, Pellet, South Carolina, Sept 2013.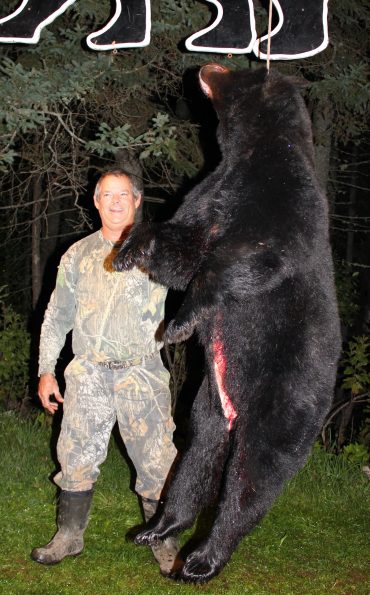 Unsurpassed opportunity to hunt a Trophy Bear
We strive to give our hunters the shooting opportunities expected of a truly world-class hunting outfitter. This requires knowledge, skill, effort, advance preparation, and experience. Bear hunting is our life, so no matter how you cut it, a part time guide can not give a full time commitment.
Trophy black bear from the Maine Highlands Our highly processed baits have incredible drawing power. They are continually adjusted as bear feeding preferences change. Your bait site, stand and blind are precisely positioned and meticulously maintained only after our careful study of prevailing winds, terrain, and game patterns.
Check out our Fall 2019 Bear Hunting Trophy Room
A sure shot and a quick, clean kill
A black bear can appear at your stand and then disappear in a blink. Powerful and crafty, the bear's trademarks are strength and endurance. His nose is as sensitive as the most sophisticated radar system. The bear's feed and travel patterns through our thick fir and dense bogs make him a challenging animal to hunt. Scent and noise control are critical to your success.
You are provided pre-built, permanent stands, portables and ground blinds with all obstructing branches and brush cleared from your line of fire. Our stands offer bowhunters an average shot of 18 yards. Rifle hunters will shoot at distances of 75 yards or less, and hand gunners will be shooting 20-30 yards.
The black bear demands shooting excellence before he will fall to a hunter. Even at these close ranges, a precision shot is essential. Your target is a 4 to 5 inch square (boiler room) area just behind the front shoulder.
Bow-hunters – it makes no difference how good a shot you are. Unless you hit exactly in the boiler room with the arrow heading towards the bear's head, you will get nothing but a wounded animal.
The black bear is unlike any other game you have ever hunted. When hit, he will not lie down and bleed out like a deer. But rather, will run until he dies – which could be up to 20 miles. Therefore, a precision shot is essential.
Those of you using a gun have many options. You do not have to even wait until the bear is on bait for a good shot. Also, a head and chest shot can produce when combined with accurate shooting.
And never rush a shot. But when you do have a good shot – take it. Do not assume the bear may go left or right, or even to the actual bait. Be positive of what and where you are shooting…it's your responsibility.
Note: You may hunt with rifle, muzzleloader, handgun or bow. As of 2006, Cross-bows are also legal in Maine (additional license is required – Click here for details about the Cross-bow license).
Thank you and your staff again for the time we had on our bear hunt. I am tickled with my bear. I wanted an above average bear with a dark muzzle and no V. That is exactly what I got. I can't wait to get the mount. You have a first rate operation.

Cindy Chihasz, Abbeville, SC, September 2015.
Hunts in Two Vast Tracks of Land in Maine — a Major Benefit to our Hunters
One of the key factors contributing to the high success rate and quality bear taken at Foggy Mountain is that we never put any pressure on our bear population resource. We start hunting in the Highlands, Katahdin and Moosehead Region where we only hunt for two weeks, then completely close it down to assure that the bear never get hunted hard. We then hunt the West Branch Region, which is completely separate from the Highlands, Katahdin and Moosehead Region. These two regions are located in different parts of Maine. Both areas are equally under harvested, with growing bear populations, which perhaps provides some of the most outstanding bear hunting possible in North America.
Bear hunting success is the same in both areas, but our accommodations are different. Lodging for hunts in our Highlands, Katahdin and Moosehead Region is housekeeping style (each cabin has a full kitchen). Lodging for hunts in the West Branch Region is American Plan (meals included). Both areas are on private lands with access controlled by gates, as are 95% of our total hunting territories.
2021 Season: Hunt August 30th (Arrive on the 29th) thru September 3rd;
or hunt September 6th (Arrive on September 5th) thru September 10th.
Six day stay and a five day hunt. Maine's vast Highland, Katahdin and Moosehead Region lies between our Ebeemee Lake base camp, and Mount Katahdin and Moosehead Lake to the north.
Housekeeping Accommodations – We offer excellent housekeeping accommodations in comfortable cottages or camps. We match your lodging to the size of your party and the area you are hunting. We provide bedding and household equipment. You'll have everything you need to prepare your own food inexpensively. There are also several places to eat within easy driving distance.
More details about our Highland, Katahdin and Moosehead Region Bear Hunt
2021 Season: Hunt September 13th (Arrive on the 12th) thru September 17th;
or hunt September 20th (Arrive on the 19th) thru September 24th.
Hunt Maine's famous West Branch Region between Moosehead Lake and the Canadian border.
Six day stay and a five day hunt tailored the same as our regular base camp housekeeping hunts.
American Plan – Stay in the comfort of a fully restored Maine Lumberjack Lodge. This lodge has been designated as an official National and Maine Historic Site, and features original turn-of-century decor. What's more, you'll enjoy home-cooked, all-you-can-eat, lumberjack-style meals, reputed to be the biggest and the best in Maine. The coffee pot is always on.
More details about our West Branch Region Bear Hunt
Private & Flexible Accommodations
Unlike bear hunts with most outfitters, lodges and sporting camps, Foggy Mountain's guests are not doubled up in a bunk house or room with other guests. Your party will enjoy the privacy of your own sleeping room, and the good night's sleep that is important for a good hunt – whether you come alone, with a large group, with your spouse or whole family.
"Life is full of surprises…Your bear hunt shouldn't be one of them!"
We know that a bear hunt is a major event in many folk's lives, so we take it very seriously. You can arrive with confidence, not apprehension.
Thank you for an amazing time in the Maine North Woods with Foggy Mountain. The trip was all I hoped it would be – from the cabin on the lake to all the moose that came by my stand. Along with the bears even if I had not taken such great bear the trip would have been a success.

Tony Dayton, Fleetwood, NC, September 2013.
It May Not Be Too Late!
"Should you have a last minute opportunity to get away for some quality hunting, just give me a call and I may be able to accommodate you. I appreciate fellow hunters and their busy schedules, and will do everything possible to accommodate you." – Brandon Bishop.
Note:
All hunts are six days lodging and five days hunting.
The best time to arrive is Sunday afternoon.
You will hunt from either a ground blind or tree stand.
A 50% deposit is required on all hunts. No deposits refunded.
PERSONAL CHECKS ACCEPTED FOR RESERVATION DEPOSITS ONLY.
Please make Checks Payable to "Foggy Mountain Guide Service."
Click Here for Maine Black Bear Hunting Rates.
Get back to Foggy Mountain's roots with Brandon's exciting bear hunting adventure. These hunts produce some of the largest Maine black bear taken each year. Become one of the hunters who do!
Our hound hunts are a thrilling blend of hound and hunter skills, with exciting non-stop action. We follow a bear wherever it leads us in the deep woods of Maine.
More details about our Hound hunting opportunities
Questions?
When you book a hunt with us, you will receive a complete confirmation kit including detailed information on equipment and clothing, plus graphic illustrations of optimum shooting angles.
Please feel free to call us at any time.
Click here for answers to some of your Questions.