Black Bear Hunting is our life at Foggy Mountain Guide Service. It is not a seasonal sideline for us. It has been our livelihood for over thirty years. And that shapes our attitude toward both our hunters and the game we hunt.
Prime Black Bear Habitat with Controlled Access
Your bear hunts will be deep in the most productive habitat in North America.
Our territories in Maine cover over one million acres of private and. All this land has controlled access – which is an unparalleled benefit for Foggy Mountain's guests.
We have hunted these lands since 1964. We know the habitat, and we know the black bears habits and patterns within it.
The black bear in your territory are under-hunted, resulting in a growing bear population, with many stands having multiple bears visiting them.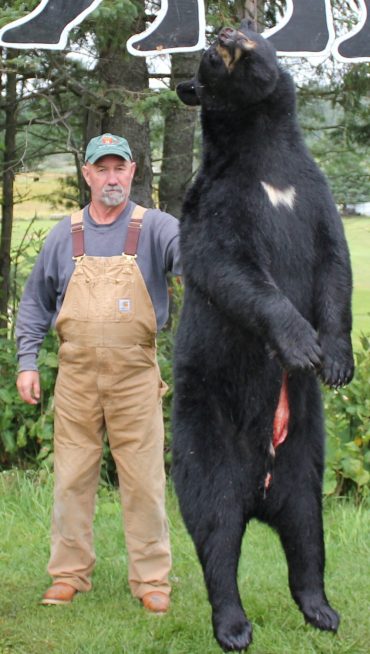 Unsurpassed opportunity to hunt a Trophy Bear
We strive to consistently give our hunters the shooting opportunities expected of a truly world-class hunting outfitter. This requires knowledge, skill, effort, advance preparation, and experience.
Bear hunting is our life, so no matter how you cut it, a part time guide can not give a full time commitment.
Our highly processed baits have incredible drawing power. They are continually adjusted as bear feeding preferences change. Your bait site, stand and blind are precisely positioned and meticulously maintained only after our careful study of prevailing winds, terrain, and game patterns.
A sure shot and a quick, clean kill
The black bear is a trophy game animal we know and respect. Powerful and crafty, the bear's trademarks are strength and endurance. His nose is as sensitive as the most sophisticated radar system. The bears feed and travel patterns through our thick fir and dense bogs make him a challenging animal to hunt.
This black ghost can appear at your stand and then disappear in a blink. Scent and noise control are critical to your success. You are provided pre-built, permanent stands, portables and ground blinds with all obstructing branches and brush cleared from your line of fire.
Our stands offer bowhunters an average shot of 18 yards. Rifle hunters will shoot at distances of 75 yards or less, and hand gunners will be shooting 20-30 yards.
The black bear demands shooting excellence before he will fall to a hunter. Even at these close ranges, a precision shot is essential. Your target is a 4 to 5 inch square (boiler room) area just behind the front shoulder.
Bow-hunters, it makes no difference how good a shot you are – unless you hit a bear exactly in the boiler room with the arrow heading towards the bear's head, you will get nothing but a wounded bear.
The black bear is unlike any other game animal you have ever hunted. When hit, he will not lie down and bleed out like a deer. But rather, will run until he dies – which could be up to 20 miles. Therefore, a precision shot is essential.
Those of you using a gun have many options. You do not have to even wait until the bear is on bait for a good shot. Also, a head and chest shot can produce when combined with accurate shooting.
And never rush a shot. But when you do have a good shot – take it. Do not assume the bear may go left or right, or even to the actual bait. Be positive of what and where you are shooting…it's your responsibility.
You have provided my son and I with a fabulous time for three years in a row. The hunting and site locations are outstanding. You and your guides could not be more knowledgeable or helpful. All of your support people are very hospitable and friendly. The conversations during meals (which are terrific) and non hunting time were great fun and very enjoyable. Brandon, you are a true sportsman and professional. We would certainly recommend you to other hunters.

Leon Tragger Sr & Jr, Pennsylvania, September 2017
Maine Bear Hunting
Maine has one of the heaviest black bear concentrations per acre of habitat in North America. Success from our blinds and tree stands over bait has been outstanding with record book kills year in and year out.
Perhaps the most beautiful country in the world for fall hunting, you will be surrounded by an explosion of fall foliage color and you will never be too far from a delicious Maine lobster dinner. There is nothing quite like our fall hunting in Maine.
Handguns, cross-bows and bowhunting, are all legal in Maine.
Click Here for Maine Black Bear Hunting details.
Private & Flexible Accommodations
Unlike bear hunts with most outfitters, lodges and sporting camps, Foggy Mountain's guests are not doubled up in a bunk house or room with other guests. Your party will enjoy the privacy of your own sleeping room, and the good night's sleep that is important for a good hunt – whether you come alone, with a large group, with your spouse or whole family.
Questions?
When you book a hunt with us, you will receive a complete confirmation kit including detailed information on equipment and clothing, plus plus graphic illustrations of optimum shooting angles.
Please feel free to call us at any time.
Click here for answers to some of your Questions.