Nothing gets your heart pounding more than a big strutter thundering his way into range.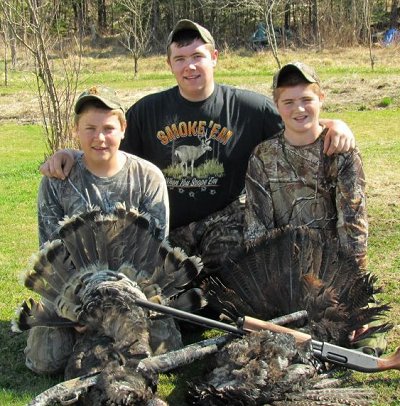 Maine's turkey population is booming! Wild turkeys were re-introduced over twenty years ago and the population flourished thanks to the excellent habitat provided by Maine's reverting farmsteads.
Foggy Mountain's turkey hunts are in a region full of this prime turkey habitat, where it is common to get the chance to harvest multiple birds.
Spring Turkey Hunts include: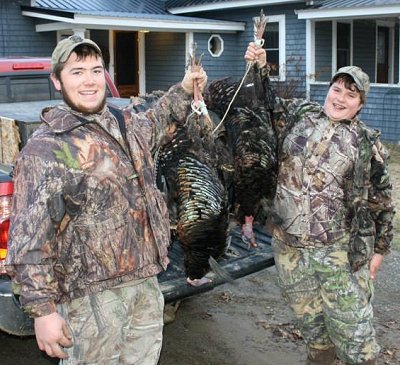 Hunts run from one to five days.
Hunters may harvest 2 bearded turkeys.
Hunt starts at 4 AM.
Full guide service.
Transportation during the hunt. All gas and vehicle expense.
Land Access "private land" and insurance fees.
Optional: Housekeeping accommodations (no meals) can be provided upon request for an additional charge.
Click Here for Maine Hunting Rates
Turkey Hunting Season
2020 Season:

Hunt May 4th to May 8th, or
Hunt May 11th to May 15th, or
Hunt May 18th to May 22nd
Hunt May 25th to June 5th
Licenses, Permits & Equipment
Shotgun: A hunter may use shotgun gauges 10 through 20, shot sizes 4 through 6 or mixed loads that include shot sizes 4 through 7. A hunter must possess a valid big game hunting license and a turkey permit.
Bow & Arrow: A hunter must possess a valid big game firearm hunting license or an archery license, and a turkey permit.
Crossbow: A crossbow may be used to hunt wild turkeys during the spring wild turkey hunting season. A hunter using a crossbow must possess either a valid big game firearm hunting license or an archery license as well as a spring/fall turkey permit. (A person must have taken an archery and crossbow hunting education course or show proof that they have previously held an archery and crossbow hunting license prior to purchasing their crossbow permit).
It May Not Be Too Late!
"Should you have a last minute opportunity to get away for some quality hunting, just give me a call and I may be able to accommodate you. I appreciate fellow hunters and their busy schedules, and will do everything possible to accommodate you." – Brandon Bishop.
Note:
A 50% deposit is required on all hunts. No deposits refunded.
PERSONAL CHECKS ACCEPTED FOR RESERVATION DEPOSITS ONLY.
Please make Checks Payable to "Foggy Mountain Guide Service."
Questions?
When you book a hunt with us, you will receive a complete confirmation kit including detailed information on equipment and clothing.
Please feel free to call us at any time, we love hearing from fellow hunters.
Click here for answers to some of your Questions.