Special Care of Your Trophy Mount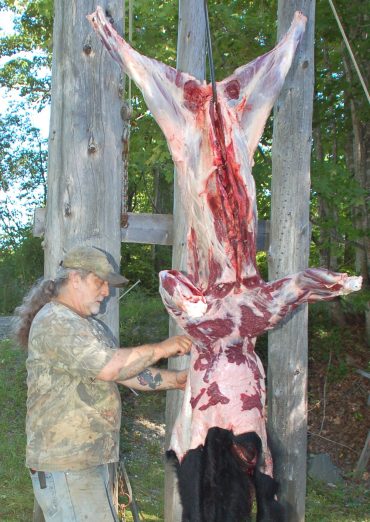 As part of your hunting package, we take extra care to see that your hide is properly readied for a taxidermist. We even arrange for a specialist in black bear taxidermy to visit camp and discuss mounting options with you.
Special Care of Your Meat
Foggy Mountain offers three options for the preservation and packaging of your meat:
All Hunters: As part of your hunting package, we retrieve, gut out, and skin your bear. Much care is taken to see that your hide is properly readied for a taxidermist. We also quarter up your meat and remove the backstraps for you to take home. No charge.
Very Popular: Your meat is taken to a professional butcher shop that will make up steaks, chops, and hamburg according to your wishes, then vacuum sealed and frozen. I might add that this butcher shop will add some garlic, which is a delicious addition. Also, this is not someone working out of their barn or basement. The shop has been in business for over 60 years. All employees are professional butchers and meat cutters. All wild game meat is cut and wrapped to your specifications. All meat is boned out unless you want otherwise. The shop is federally inspected by a USDA inspector on the premises everyday, all year round. They also meet HACCP regulations, which ensures that they process a safe product for you. Exclusive pricing for Foggy Mountain Guide Service.
Charities: Foggy Mountain donates meat to a number of charitable organizations and folks who welcome the gift of some bear meat. Note: Sale of game meat is not permitted in Maine.
Questions?
When you book a hunt with us, you will receive a complete confirmation kit including detailed information on equipment and clothing, plus graphic illustrations of optimum shooting angles.
Please feel free to call us at any time.
Click here for answers to some of your Questions.