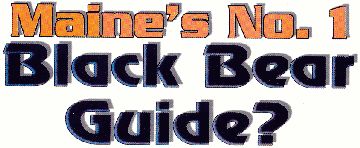 Wayne Bosowicz has been hunting and studying Maines black bears for 40 years and is considered one of the top black bear experts in the state. Is he also the last of a dying breed?
By Sheila Grant
For Wayne Bosowicz, bear hunting is a way of life, an American tradition. When I was a kid, I was raised on hunting. I was also taught that it's not so much the kill that matters – it's the quality of the hunt.
Bosowicz, who now lives in Sebec, Maine, enjoyed hunting raccoons and other critters in his younger years, but it was the black bear that held the most fascination for him.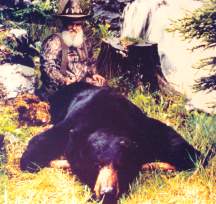 In the late 1960s, Bosowicz was a union ironworker and started a part-time guide service. He traveled many miles to put in his union hours and keep his benefits because, even back then, the jobs weren't in Maine.
I had just started guiding, he recalled. The kids were growing up fast and I was not spending enough time with them. So, I took the plunge, gave up the umbrella of benefits and never looked back.
MORE THAN A BEAR HUNTER
Not content to be just a bear hunter and a bear guide, Bosowicz devoted himself to becoming a bear expert.
In the early 1970s, Bosowicz joined the International Bear Biology Association to obtain even more knowledge about bears. While running his highly successful Foggy Mountain Guide Service in Sebec, Bosowicz has been credited with many contributions to Maine black bear management over the years.
In 1978, Bosowicz was issued an Award of Merit by Maynard Marsh, Maine Department of Inland Fisheries and Wildlife commissioner, who wrote that Bosowicz' biological research was very helpful to this department, sportsmen and our bear population.
In 2002, Bosowicz was still being recognized for his commitment to Maine's black bear population.
Throughout two decades of leading Maine's Bear Study, I have been impressed by your willingness to contribute biological data to our studies of bear reproduction and survival, wrote Dr. Craig McLaughlin, Maine's Bear Study leader. I salute you as a conservationist in the truest sense of the word, always holding the welfare of the American black bear in the highest regard.
BEAR RESEARCH PIONEER
It was Bosowicz who pioneered the use of radio collars on hounds after seeing a television special about wardens using such collars to track wolves. He wondered if the same system could be used with hounds, and contacted the companies working on that technology.
At first, the expense kept most companies from participating, he said, but eventually he was asked to field-test the new collars.
Over the years, the collars have helped Bosowicz keep track of his hounds, but they also enabled him to find and recover a dog caught in a trap and another that had been injured in a fight with a bear.
Bosowicz believes the risk of loss in training time and money in these valuable animals all but demands that tracking collars be part of every hunter's kit.
He even takes it one step further:
I think (radio collars) should be legally mandated for hunters using hounds. The collar is just a tool, and it's not going to help anyone find game, but they do safeguard the well-being of your dog.
Bosowicz had a few words of advice for hunters new to the world of hunting hounds. First, find a reputable dealer, and beware of anyone parting with an adult dog.
No one sells a good dog unless they have to. Start with a good bloodline. That's no guarantee of a good dog, but blood tells at some point. Work them with other dogs and see how they do.
Prospective houndsmen should understand that success at this sport requires a major investment in time and money.
You have to put both feet into the tub – you can hardly hold a job because serious hound hunting takes up so much of your time. Pups do most of their learning during their first year, and some gain a little ground into their second year, but as the saying goes, you can't teach an old dog new tricks, so it's a short opportunity.
"Train them exactly as you would a housedog. The more of a pet they are, the more they feel a part of the family 'pack,' the better they will hunt for you."
CHOOSE YOUR WEAPON
While most bear hunters use archery gear, rifles or muzzleloaders for bears, Bosowicz recommends a heavy handgun for hound handlers. His weapon of choice for bears is a 4l-caliber magnum handgun because it leaves his hands free for handling dog leashes and bait buckets.
As for rifles, About any 30 caliber will do the job, but most hunters prefer a 30/06.
He recommends a heavy-duty bullet, but doesn't like hollow points.
I like a semi-jacketed, soft-nosed bullet in a handgun, he said.
Bosowicz maintains that the average sportsman would be wise to hire a guide for bear hunting.
A bear hunt is not expensive when you look at the bang you get for the buck; he said, Maintaining successful bait stations costs a lot of money, especially with today's rising gas prices.
Also, consider the amount of time it takes to become familiar with the territory; what the animal is eating and where that food is.
I have been hunting all my life, but I still hire a guide when I go to the Rockies, said this Maine Master guide.
BAITING CHALLENGE
For hunters who do want to place their own baits, be forewarned that the process involves a lot of hard work. It can take up to two months to prepare a bait site, and then the bait must be placed every day or two for 30 days before the legal hunt begins.
It's a very nomadic job, he said. Often, a region you have all set up one year is clear-cut the next. It's hard work and it's never really done.
Scent and lures draw bears to a bait site, but quality bait will keep them there.
Many hunters use rotten meat, which certainly works, but I prefer to use a real quality lure and make a real quality meal for them.
Bosowicz makes his own lures with secret ingredients, but said that many successful hunters use anise or vanilla.
People use all kinds of things to attract bears. It's not rocket science, he noted.
Hunters shouldn't plan on the bear dining at the same time every day, either.
It's a clich, but the only predictable thing about a bear is that it's unpredictable, Bosowicz said. That's what makes bear hunting so exciting! Same bait, same bear, but it might come at 9 a.m. one day and 2 p.m. the next. A bear could come to a bait every day for a week and then it will skip a day. Maybe the animal ran into natural foods somewhere in its travels.
WHAT ABOUT THE FUTURE?
The upcoming referendum to ban bear baiting, hound hunting and trapping has Bosowicz concerned, not so much about his guide service, but about the future of his beloved black bears.
Even if a person doesn't want to hunt, I wonder why they would want to curb one of the best biological tools we have – hunting over bait – and why you would want to hamper the work of our wildlife scientists?
"Baiting is, number one, a useful biological tool, and number two, it's a successful hunting method. We need to kill 4,000-plus bears per year in Maine (just to hold the line at present population levels).
The sad thing is that I'm afraid this issue is not going to be dealt with on truth and facts, he said. It's emotional. One thing I've learned is that public sentiment sometimes overrules biological facts. If people don't believe our wildlife experts, why do we hire them? In Maine, we have the cream of the crop among wildlife managers. I might not always like what they say, but by gosh, I'd better pay attention to them.
Bosowicz maintains that we use lures and baits in everything we do in life. Fishermen do it. Duck hunters go where the reeds are. Deer hunters go to apple orchards and alfalfa fields.
There is a multi-billion dollar business in bait and lure. We call it the perfume industry, he said wryly.
When fur prices drop, rabies outbreaks among small mammals begin to rise. Disease within the moose population was rising, too, before the legalized annual harvest began.
I need to be managed. You need to be managed. Everything in life needs to be managed. Management is the key to everything, he said.
Despite a lifetime of hunting black bears, Bosowicz sums up his feelings like this:
If I thought that what I do would hurt the bear population, I'd quit.
---
Maines No. 1 Bear Guide can be read in the August 2004 issue of New England Game & Fish. See page 17.
To subscribe visit www.newenglandgameandfish.com.
Read more about Black Bear Hunting with Foggy Mountain Guide Service.
Info about Maine Bear Hunts with Foggy Mountain Guide Service.
Read more Hunting Guide Magazine Articles about Foggy Mountain Guide Service.
Return to Bear Hunting Home Page.