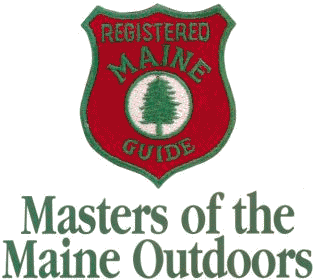 These days a Registered Maine Guide is as apt to help you photograph a moose as shoot one. In fact, the range of skills he – or she offers is wider than you might imagine.
By Andrew Vietze
The guiding industry in Maine has undergone many changes since Cornelia "Flyrod" Crosby became the first Registered Maine Guide in 1897. Once wool-shifted hunters and fishermen who spent days leading sports through the deep North Woods in search of quarry, guides today are increasingly likely to be expert birdwatchers armed only with binoculars or kayak instructors teaching two-hour introductory courses in Casco Bay. They might be tidewater fishermen who drop lines into the saltwater for striped bass or fly-casting coaches working for one of the state's largest corporations.
Guides today are almost as likely to be women as men, and to be people who have chosen the guiding profession as opposed to being chosen by it because they don't have other career options. They've had to adapt as outdoor sports in Maine have gradually shifted from the "hook and bullet" pursuits of yore to the more family-oriented and observatory ones that people seem to prefer today, like paddling and moose watching.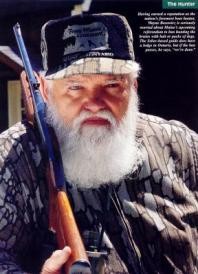 Sergeant Mark Warren of the Maine Warden Service, which oversees the licensing of Registered Maine Guides, admits as much when asked where he sees growth in the guiding industry these days. "I think there's a great demand in sea kayaking," he notes. "And I can see that bear-hunting guides will probably have a problem finding clients in a few years."
No matter who they are, though, Registered Maine Guides all still have to pass a rigorous test to get their coveted red and green badge. The process is an involved one, requiring both an oral exam and a written test administered by a pair of war- dens or representatives of the Department of Inland Fisheries and Wildlife. Candidates pay $103 to be tested in each specialty they intend to guide in – hunting, fishing, sea kayaking, tidewater fishing, or general recreation. Labor long enough in the field and after ten years you can qualify as a Master Maine Guide.
The Hunter
When celebrities like Hank Williams, Jr., and rocker Ted Nugent want to bag a bear, who do they hire? Wayne Bosowicz, that's who. "Hiring a guide is like anything," says the burly, bearded hunter from Sebec. "If you are a plumber or a carpenter, you probably know a little bit about a lot of things, but you have your specialty. We specialize in black bear. We also do some grouse and some woodcock, but it's the bears they want. People come from all over the world to hunt with us. And everyone who pays the price of the hunt is notable to me."
It was hard to imagine hunters traveling far to hunt Maine bears when Bosowicz, 60, got his start forty years ago. He got his start as an apprentice guide in Vermont, "basically a gofer," he laughs, and he knew bear hunting was what he wanted to do when he moved to Maine. At the time, the black bear was looked upon as a big, furry pest by most Mainers, and nobody seemed to much care if they were hunted down. "They were just considered varmints," Bosowicz remembers. "I saw a demand there." The young guide began to study the animal.
"I devoted my life to the bear," Bosowicz says. "I read all sorts of books. I met with Russian bear biologists. I gathered all the information I could. He volunteered long hours to the Maine Department of Inland Fisheries & Wildlife, helping researchers.
And he got his Registered Maine Guide license so he could put his knowledge of bears to use. In the early seventies, he founded Foggy Mountain Guide Service out of his home near Dover-Foxcroft, naming it after a song by bluegrass legend Earl Scruggs. He chose the central Maine area because it was handy to both the woods and the airport (Bangor International) and because no one was hunting bear there at the time.
Since then he's quietly become the dean of bear hunting in the country, with more trophies than he has room to display. He now spends all winter on the road promoting his business at trade shows. "It's a strange lifestyle," he says. "You go from sheer barren wilderness in the summer to Detroit and Chicago."
Today, Bosowicz, who also has a lodge in Ontario, leads hunts in several Maine regions – up around Katahdin Iron Works and Jo-Mary Lake, and over on the West Branch of the Penobscot near Pittston Farm. At his busiest he employs six or so guides to help out.
---
Masters of the Maine Outdoors can be read in the August 2004 issue of Down East Magazine. See page 100.
To subscribe visit www.downeast.com.
Read more about Bear Hunting with Foggy Mountain Guide Service.
Info about Maine Bear Hunts with Foggy Mountain Guide Service.
Read more Hunting Guide Magazine Articles about Foggy Mountain Guide Service.
Return to Bear Hunting Home Page.