Maine Whitetail Deer Hunting Challenge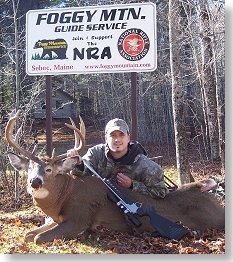 Note: Foggy Mountain is not currently offering deer hunts. This information is provided for those interested in hunting on their own.
Trophy deer hunting in Maine is an exciting challenge for every hunter. We do not have many deer but do have some real BIG DEER like to one at the right that field dressed at 225 pounds and qualified our hunter for Maine's famous "Big Bucks Club." There's nothing bigger or smarter than an old Maine buck. The satisfaction in tagging one is well earned!
A guide is not necessary in this area. Although this is a NON-GUIDED hunt, we know where the deer are working and we will take you around and show you some good deer country at no additional charge.
Hunt with Firearm, Bow or Crossbow
Firearm & Crossbow Season – November: Hunt the pre-rut and peak rut. Strong possibility for tracking snow.
Archery Season – October: NO stress on these deer as there is little to no hunting pressure on our deer during bow season. Food plots consist of old apple orchards, clover and hay fields along with beechnut ridges and cedar thickets.
Also, grouse season is open, so bring a shotgun if you would like to bird hunt. PLUS, you can also shoot a BEAR.
White-tail Deer Physical Characteristics
Maine is home to one of the largest of the 30 recognized subspecies of white-tailed deer. After attaining maturity at age five, our bucks can reach records live weights of nearly 400 lbs. Most adults bucks, however will normally range from 200 to 300 lbs live weight, and will stand 36 to 40″ at the shoulder. Does are considerably smaller; they normally weigh 120 to 175 lbs live weight. Newborn fawns begin life at 4 to 10 lbs, but grow to approximately 85 lbs live weight in their first 6 months of life.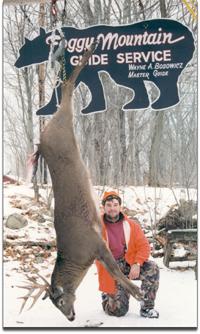 Maine Deer Facts
Pre-Hunt population in 1998 was 338,000 deer: 90,000 of these were antlered bucks. 1 in 5 antlered bucks (18,000) was trophy-age 4 1/2 to 15 1/2 years.
Buck-to-doe ratios over most of Maine are among the best in the Northeast. There are 65 antlered bucks for every 100 does in the statewide pre-hunt herd.
Mild winter prevailed in 1999. Over-all population and antlered bucks both will be higher in '99 as a result.
Record buck harvests occurred in Maine during the past 3 years (17,925 to 19,660); antlered buck harvest in up 40% compared to the early 80's.
Statewide buck harvest may break 20,000 this year; harvest of trophy-age bucks may also break all-time records (=4,000).
During the past 10 years, the number of bucks entered into the 200 lb club have consistently ranged from 600 to 700. This is higher than during the "good ole days" in the 50's, 60's and 70's. Every year, several bucks in the 280 to 300 LB range are taken in Maine.
Long hunting seasons, relatively low hunting pressure, and large tracts of open hunting land plenty of "elbow room."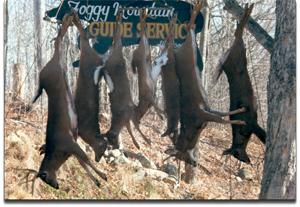 For over 35 years, we have been dedicated to good stewardship of the land and wildlife and committed to making each guests visit one that memories are made of.

Foggy Mountain Guide Service